Amazon.com Sponsored Gun buyback in downtown Seattle draws big crowd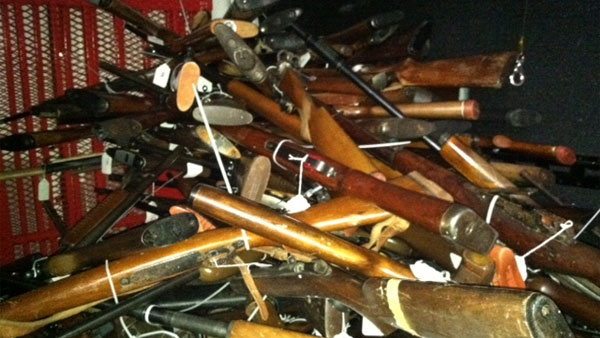 Hundreds of people showed up Saturday morning for a gun buyback in Seattle.
One man even brought a rocket launcher. He said it had already been used and could not do any harm. Mason Vranish said he bought it from a man for $100, but within seconds police took it off his hands.
"Their reason was even though it was single time use item it is still military property concern that a soldier had stolen it from the base or whatever and it wasn't theirs to own… so it somehow ended up in the civilian market illegally," said Vranish.
Officers gave Vranish a gift card and said they will investigate and will let him know if he can have it back
The event was supposed to go until 3 p.m., but the even drew such a big crowd, police wrapped up by noon.
Police said in the first two hours, more than 160 guns were turned in and $35,000 in gift cards were handed out.
But some people were not turning guns in, rather they were offering cash to people who brought guns to the buyback. Some even offered free doughnuts as they attempted to buy guns on the street.
The buyback program is part of the effort Seattle and King County leaders are making reduce gun violence. Seattle hadn't paid people for their guns since the 1990s.
No ballistics tests were to be conducted on the weapons, but the department planned to check to see if the guns were stolen and return those to the owners.
The program is funded by donations from Amazon of $30,000, the Seattle Police Foundation of $25,000, and local businesses including Pemco totaling more than $118,000.
Handguns, rifles and shotguns were worth a $100 gift card. Guns classified as assault weapons were worth $200.
Guns classified as assault weapons were worth $200 (more details on the SPD blotter). Participants also could turn in unwanted ammunition and fireworks.
Amazon kicked in $30,000 to start the program announced Tuesday by Mayor Mike McGinn and other city leaders to reduce firearms in the community.
The guns become property of the Seattle Police Department and the Seattle Police Department reports the guns will be used as rebar in local construction projects.
@linda_beecher @king5seattle As of now, guns will become rebar for use in any of the construction projects (Sonics arena) in our area. sw
— Seattle Police Dept. (@SeattlePD) January 25, 2013