Lawmaker invites gun manufacturer to relocate to Sooner state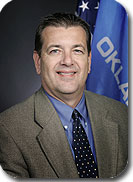 OKLAHOMA CITY – An Oklahoma lawmaker is inviting a gun manufacturer to relocate in the Sooner state after New York banned assault rifles.
Thursday Rep. Dan Kirby said he would like to invite Remington to consider Oklahoma as its new gun manufacturing location.
Kirby said, "I was just reading about the backlash from an Ilion, N.Y., Remington gun factory and I wanted to get the word out that many Oklahoma lawmakers would welcome gun manufacturing jobs in our state and would like an opportunity to talk to Remington about our incentive programs and friendly business climate."
Kirby noted Oklahoma has several manufacturing incentives available to companies that bring jobs to the state.
He mentioned the Oklahoma Quality Jobs Act and a 5-year property tax exemption for manufacturers.
State lawmakers have enacted lawsuit reform in past year and are working this year to reform the state workers' compensation system.