Mossberg Reveals Duck Commander Series of Firearms

O.F. Mossberg & Sons announced last year that the company had partnered with Duck Commander for a line of firearms geared especially towards waterfowl hunting. Perhaps better known for their appearances on A&E's Duck Dynasty, the Robertson family has built a hunting merchandise empire around their brand, Duck Commander. The combination of the Robertsons' fan base and Mossberg, a well-respected manufactuer of shotguns and rifles, meant that many eagerly anticipated the release of the new firearm line.
As seen on the Mossberg website, the Duck Commander series includes eight shotguns—even a version of the ever popular Mossberg 500—as well as two rifles and a pistol chambered in .22 LR. The firearms come standard in Max-5 camo by Realtree, one of the latest waterfowl patterns for 2014, and are branded with the Duck Commander logo. The guns also come with a commemorative American flag bandana, styled after the one commonly worn by Willie Robertson on Duck Dynasty.
The shotguns in the series are:
Mossberg 500
Mossberg 535 ATS
Mossberg 835 Ulti-Mag
Mossberg FLEX 500
Mossberg 835 Ulti-Mag with Recoil Reduction
Mossberg 930
Mossberg 935 Magnum
Mossberg Int'l SA20
Mossberg 500 Super Bantam
While shotguns are standard fare for duck hunting, surprises came in the form of the .22 pistol and rifles. The Mossberg 715P Pistol carries a capacity of 26 rounds and weighs about 3.5 pounds. At $447 retail, the pistol comes with a full-length top-rail, red dot sight, short vented quad-rail forend, and an A2-style muzzle brake. The much larger Mossberg International 715T rifle carries the same capacity and sports a top rail, a 16.25-inch barrel, adjustable sights, and weighs 5.5 pounds. It will retail for $509. Lastly, Mossberg is offering a Duck Commander version of their International 702 Plinkster, which comes with a free-floated barrel, adjustable sights, and a scope-ready receiver. The four-pound Plinkster has a capacity of 11 rounds and is priced at $274.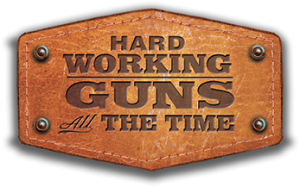 Mossberg's Duck Commander series is expected to hit retail shelves soon, and you can check out all the details of each gun here. You can also watch the teaser for the series below: