Oklahoma Youth Archers Gearing Up for State Shoot
us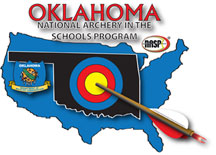 The National Oklahoma Archery in the Schools Program is heating up as nearly 1,200 students from across the state prepare to compete March 28 at the annual OKNASP state shoot at the State Fair Park in Oklahoma City.
The students qualified for the state shoot by competing in regional archery events held in February, in which more than 2,400 students participated.
About 310 schools across Oklahoma participate in the Oklahoma National Archery in the Schools Program (OKNASP), and about 70 of those will bring students to compete in the state shoot after a season of practice and competition in their respective schools.
"Coaches have told me time and again that this program has helped every child see success. From the typical athletic student to the child that does not usually excel in most other sports, archery is allowing all students to compete on a level playing field," said Justin Marschall, OKNASP coordinator for the Wildlife Department.
The number of students at the state and regional shoots reflects the growth of the OKNASP program during its seven years of existence.
"Due to the continued growth of the program we have held regional qualifiers across the state the last two years to help make the number of shooters at the state shoot more manageable and provide closer opportunities for schools throughout the state to compete," Marschall said.
Coordinated by the Wildlife Department, OKNASP is part of the National Archery in the Schools Program. The program partners state wildlife agencies, schools and the nation's archery industry to introduce students to the sport of archery. The Archery in the Schools curriculum is designed for 4th-12th graders and covers archery history, safety, techniques, equipment, mental concentration and self-improvement.
Medals and prizes will be awarded to top shooters in all categories. In addition, students and teams participating in the state shoot have a chance to quality for the national tournament to be held May11-12 in Louisville, Ky.
For more information about Oklahoma National Archery in the Schools or the Wildlife Department, log on to wildlifedepartment.com or find the program on Facebook at facebook.com/OKNASP.
Contact:
Michael Bergin or Micah Holmes (405) 521-3856
Website: www.wildlifedepartment.com
E-mail: 
info@odwc.state.ok.